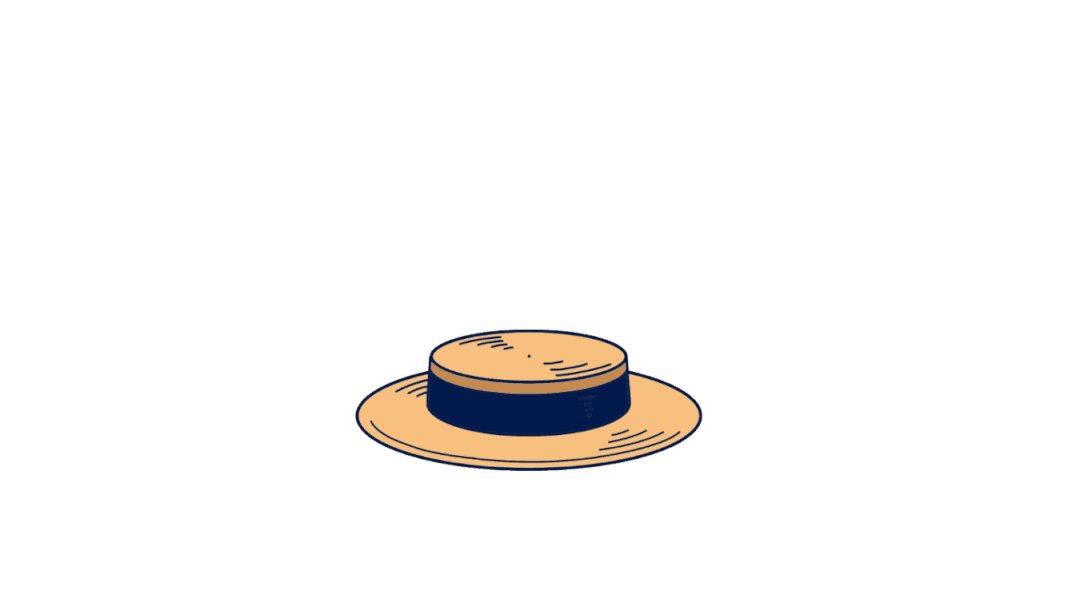 At Harrow Shenzhen,
we are committed to paving the way to top universities for our students.

This article will help you to understand
our holistic approach to students' university preparation!

If you would like to know more about us,
scan the QR code at the end of this article to join our Open Morning.
University Preparation – Harrow Shenzhen
As our first cohort of Senior School students are preparing themselves to enter Year 10, we at Harrow Shenzhen are already working on our plans to ensure that our young people have the highest aspirations for themselves and can secure places at the very best universities around the world.
An Individualised and Customised Experience
Throughout the Upper School, our students benefit from an indivudualised and customised experience that seeks to guide and advise students at every stage. This starts with the IGCSE courses that students select for their studies whilst in Year 9 and continue when choices are made for A-levels to be followed in the Sixth Form. In getting this right, students will be guided by their teachers to ensure that they choose wisely with the right balance between breadth and depth in their studies. Furthermore, all these important decisions will be supported by access to specialised careers planning and profiling, based on individual interests, skills and talents.
The Sixth Form University Guidance Programme will be more comprehensive still. Under the direction of the Head of Sixth Form, close personal tutors and our University Counsellor, students will receive regular and bespoke mentoring and coaching to assist them in exploring their developing passions within and beyond their academic syllabi. In addition, they will have access to bespoke workshops, that are both thematic and subject based. They will also be able to attend drop-in clinics designed to provide support every stage of the application process. Most important of all, students will receive one to one guidance on how to write the strongest possible personal statements and intellectual agility and confidence when it comes to gaining invaluable interview practice.
Harrow Shenzhen hosts seminars on university preparation for parents. In the past, we invited Mrs. Prout, Head of Sixth Form from Harrow Bangkok, to give an introduction on the universities and their global applications.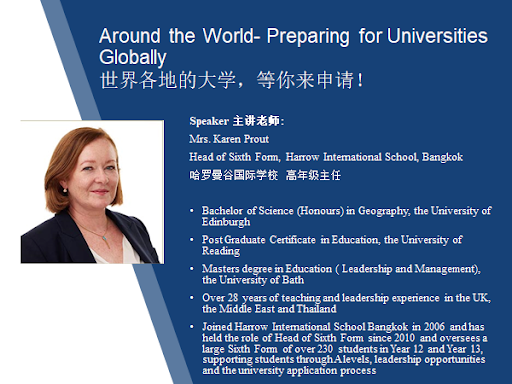 Scan QR code to watch the recording

Widespread Access to Universities Across the Globe
In planning for their futures and their future dreams, our students will benefit from access to a widespread network of universities, lecturers, and admissions representatives from across the globe. Drawing upon the expertise of our own professionals as well as those across the Harrow group we can and will provide bespoke guidance by country of destination, courses of study and where appropriate, by institution. Furthermore, we will provide students with both live and virtual study visits to universities and give them full exposure to the best advocates of all, the Harrow family alumni.
Personalised Academic Preparation
In ensuring that students stay on track, we monitor their academic progress closely and keep both students and parents informed as to the most appropriate next steps in each student journey. We will always ensure that a student's programme of study is the right one for them. Moreover, where appropriate, we will support students with specific admission test preparations or submissions such as the Medical College Admission Test, recognising, of course, that these are supplementary requirements to a student's main programme of study.

A Tailored Approach to Extra-Curricular Opportunities
Finally, we will also ensure that students are able to present themselves to universities as well-rounded global citizens with great stories to tell about their young selves. A tailored approach will be used in making the best use of our Leadership and Service Activities, Super Curriculum and the Scholars' Programme, and so allow individuals to genuinely "stand out from the crowd". As a result, they should be able to demonstrate a breadth of interests, in very many different facets of school life, as well as a depth of
At Harrow Shenzhen, we are committed to students achieving academic excellence but recognise that our ambitions have to be greater still than this. We need our students to be happy and confident, and capable of illustrating both their participation and leadership within school life and to the embodiment of the Harrow "values". In this way they will have the best chance, not only secure their university place, but also have the best chance to survive and thrive once at university and be genuinely fulfilled in their adult lives.
Many Harrovians have received offers from top universities, including Oxford, Cambridge, Ivy League Schools in the U.S. and many other top universities in the globe.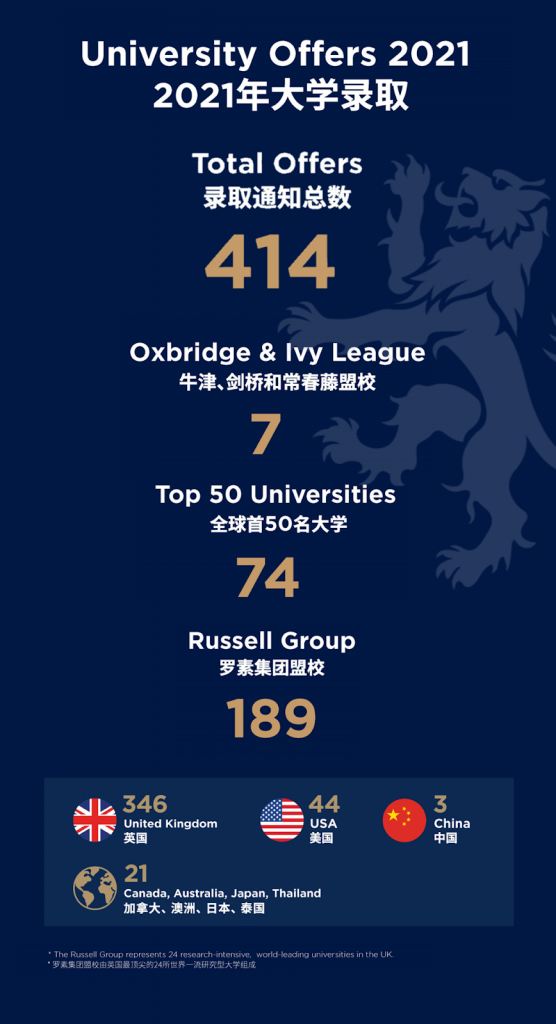 2021 HIGHLIGHTS
Oxford, Cambridge and Ivy League Universities: 7 offers
Top 50 Universities: 74 offers
Russell Group Universities*: 189 offers
(* The UK's most academically selective universities, including: Imperial, Durham, LSE, and UCL)
And more to come…
Figures updated as of 10 March 2021
Notice:School Open Morning
Visit our campus on 20th April
Date & time : Tuesday morning, 20th April
Venue : Harrow Shenzhen campus
How to apply : Scan the QR code below to enter "Open Apply" and register for "School Open Morning".
** This Open Morning will be for Years 1-9 only.
** Due to the COVID situation, the seats at the event are limited and will be allocated on a first-come, first-served basis.