Courage, Honour, Humility and Fellowship
are the long-held Harrow Values
that every Harrovian lives up to.
In order to start conversations about
what Fellowship means to us,
how we can be better fellow
and to draw attention to
how students should respond to bullying,
we have been running
Fellowship Week!

Last year this time, we launched the Anti-Bullying Week campaign, which was an initiative to make our School an inclusive place where everyone feels valued.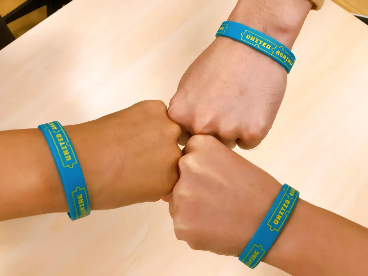 For this year's Fellowship Week, we want students to know who they can turn to for help if they experience or witness bullying.
Lots of activities have been going on 
amongst the Harrow Shenzhen community.
On the 2nd floor terrace, we had a giant 'F' sculpture which stands for 'Fellowship'. The Harrow Shenzhen community was encouraged to thumb print the sculpture. We pledge to support an inclusive and diverse community that celebrates our differences and similarities. The coloured thumb prints represent our Harrow Houses and individuals within; all linked by and uplifted by Fellowship.
We set up a big pledge wall in reception. We sign the wall to show that we stand against bullying. Upstanders stand up for others and have the courage and empathy to make a difference.
Fellowship Week is about standing up to bullying, and this does not stop when the week ends. It is about upstanding, not bystanding. We want a Harrow where students feel safe and connected to each other, to their House and their Harrow family.
——Robin Murray-Leslie
Senior Housemaster & 
Teacher of Geography